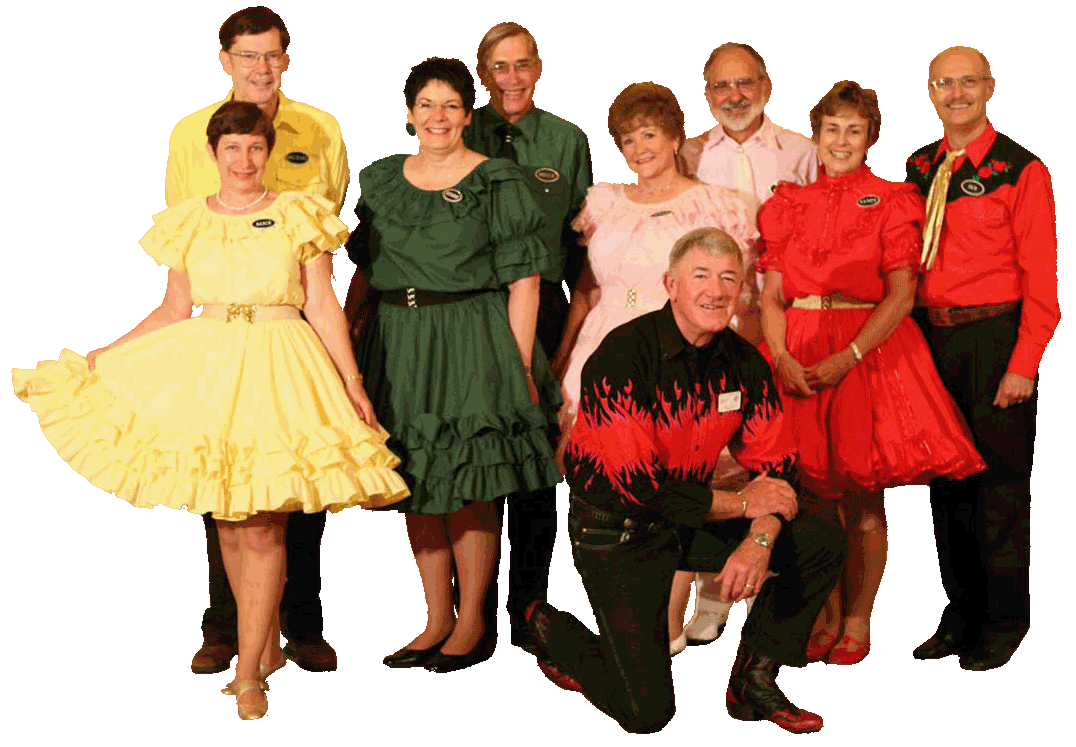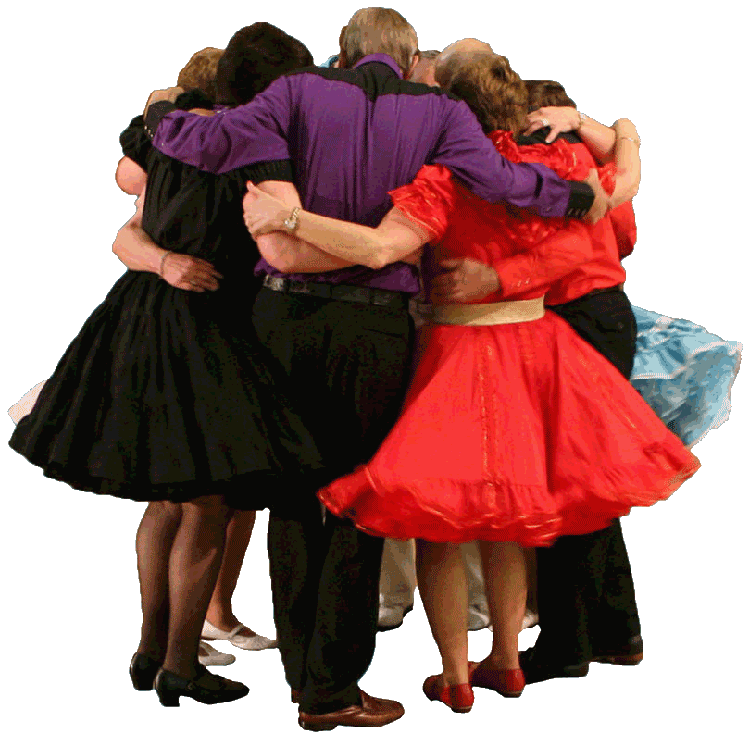 Square Dance Lessons and How to Square Dance Videos on DVD
---

Create and print square dance diplomas

A free square dance website - for your club or caller

Plus Reference DVD* - Learn all the Plus Square Dance Calls

Mainstream Reference DVD* - Learn all the Basic & Mainstream Square Dance Calls

Party Pack - Square Dance DVDs and CDs - Dance with us when no caller is available

Instant Hoedown DVDs - have a square dance party, easy square dance calls, no experience necessary!

Square dance music? Our Party Pack and Instant Hoedown include CDs of square dance music with calls

Square Dancing is alive and well - take a look at our world-wide sales!!
*Your caller is your instructor; our DVDs explain and demonstrate the square dance calls to help you learn.
Samples from our Mainstream DVD, Plus DVD, Square Dance Party DVD / CD set, and Instant Hoedown DVD / CD set; visit our video page for more videos.

If you have trouble viewing our videos, please try our YouTube versions
Samples of Recent Feedback and Reviews

Swinging Squares, Panama City, Florida - February 2017
"My name is Larry Skipper and I am a member of the Swinging Squares of Panama City, Florida. Since learning about the Traveling Hoedowners DVDs, our club has purchased over 25 of them. The DVDs have been a great visual tool in helping our beginning square dancers to progress. They are able to review what they learned this week and take a look at what they will learn next week. Our members, who have been dancing for a couple of years, say that they learn something new every time they watch them. As for myself I have benefited a lot from both the Mainstream and Plus DVDs. The Swinging Squares thank you for support and look forward to purchasing more DVDs in the near future."
Paula from Louisiana - February 2017
"Our Party Saturday night went very well. Your [Instant Hoedown] video worked very well and everyone had a great time. It was perfect because there was only one or two out of 50 or 60 youth who had ever square danced before and being able to see the moves in addition to hearing the descriptions made up, in part, for not having experienced dancers to guide them through it. It also made it possible for me to teach them as I have zero experience teaching or calling square dance. Since we couldn't afford to hire a caller, your video pretty much made this activity possible. I'm sure we will use this video again and again. Our youth really enjoy structured dances so I really think this could become a favorite for them. Thank you so much!"
Pete from California - January 2017
"Your Mainstream and Plus Square Dance Videos are really helpful. They make learning the square dance calls so simple!"
Melva from Oklahoma - July 2016
"The Mainstream and Plus Reference DVDs that The Traveling Hoedowners produce are of excellent quality and beneficial in teaching square dance movements. We recommend that all our new dancers purchase them and watch them to review and study for the next lesson. We have enjoyed excellent service from the group and would give them the top ratings for this type material."
Bill, a square dance caller from Canada - May 2016
"I have borrowed your DVDs on mainstream and plus. These are great and I would like my own set. I will be teaching plus this fall and your DVDs explain very well."
Winfried & Nicole from France - April 2016
"The Instant Hoedown DVDs are well done, easily understandable, and would be the right solution for people who had heard about square dance, but have no idea how to manage. We have been square dancing for more than 40 years so I am happy with the Instant Hoedown CD, because after a short explanation of the calls to come, I can go directly to the dance in order to provide an immediate feeling of success for my friends who are new to square dancing."
Robert from Colorado - April 2016
"We have your Mainstream Reference DVD, and we love it. We are now ordering your Plus Reference DVD."
Bruno & Sabine from Germany - November 2015
"Thank you very much for sending the DVD so quickly. My wife and I started square dancing last August. Your [Mainstream Reference] DVD is a terrific support to learn square dancing very easily. We recommend your DVDs to anyone who wants to learn square dancing. Best wishes from Germany to your team."
Karin and Manfred from Germany - July 2015
"Thank you for sending the DVDs. They are just great because everything is clear and easy to understand. Best wishes to you and your team from Germany."
Ed from Florida - May 2015
"You guys are great and your DVDs are the best available. They are extremely easy to navigate and the material contained is thorough and comprehensive. I highly recommend these DVDs to anyone that wants to learn Square Dancing or improve their Square Dancing skills."
Glenn & Wanda from Florida - May 2015
"I don't know where to start on my praise for these videos! My wife and I just started square dancing about eight weeks ago (I am 66 and she is 64). I first ordered the mainstream video to see if we could do it and if my wife would like square dancing. When I put the video in she couldn't stop watching it. First it was SO WELL PRODUCED and DONE, second, in my opinion it is the BEST video for beginners and ANYONE who wants to improve their dancing skills. We found a square dance group and informed our caller that we were preparing to go to the 61st Square Dance Convention in Lakeland, Florida in May 2015. He encouraged us and pushed us to learn. Next I ordered the Plus DVD and the Square Dance Party DVD/CD Combination. We went to class twice a week and were ONLY able to keep up by DVDs in between classes! We also put the Square Dance Party CDs in the car DVD Player and listened every time we went somewhere. These videos and CDs were the key to our rapid advancement and success!! We just got home from the convention and we were SO GLAD we had these DVDs to learn from. On Saturday we started dancing in the mainstream hall at 10 a.m. and did not stop dancing until the 4 p.m. break! We then went back and danced again until closing at 10 p.m.! Everyone there was surprised when we told them we had only been dancing for eight weeks! Thanks to All of you for this wonderful system and God Bless the late Paul Place for his wonderful teaching, he will be sorely missed. The icing on the cake for us was that we got to meet Michael and Alice and Ian and Sandy at the convention. We talked to Michael and Alice for a short while and they were so gracious and encouraging. To everyone involved in the making of these DVDs & CDs, you have done a wonderful service to Square Dancing, and my guess is you will NEVER know how much you have helped."
Rose Marie, 4th Grade Music Instructor from Arizona - April 2015
"Our school ordered your square dance Instant Hoedown to be used as part of the fourth grade music concert. I was afraid that what I was asking for would turn out to be something entirely different. However, it was EXACTLY what I wanted! The students were a bit resistant at first, but after watching the video, practicing, watching again, practicing more, and finally getting it, they were extremely excited about music class. We all were quite happy about the ease with which the dances could be learned (once we figured out which way was left and which way was right. Ha Ha) The lessons were demonstrated very well and there was never any doubt as to what was expected. The audiences that we performed for thoroughly enjoyed it. Several parents came up afterwards to thank me for teaching the kids the dances. I asked the kids today if I had a square dance club for an afterschool activity, how many would go. Many hands went up. I sincerely hope I can "swing" that for a club next fall (no pun intended). Thank you very much for your instructional DVD and CD of music."
Hugh & Dede from Florida - April 2015
"AWESOME... when starting lessons at Whirl & Twirl Square Dance Club, I purchased the Traveling Hoedowners Instructional DVDs (mainstream & plus). They are sooooo helpful. I am able to watch the dancers over and over. Our caller teaches us the steps, but having the DVDs to see how it is done is such a helpful tool to becoming a better dancer. The DVDs are excellently done - easy to understand, encouraging to watch. Thank You to The Traveling Hoedowners for taking the time and effort to make the instructional DVDs for beginners and for those who need a refresher course."
Joachim from Germany - March 2015
"I live in South Germany and am a student in square dancing. My graduation will be in May and I hope I will pass. I bought your Instant Hoedown, Mainstream Reference, and your Square Dance Party Pack. Your DVDs are very helpful. I like to carry your Mainstream Reference with me for better learning."
Lori from The Wisconsin Squares - February 2015
"WOW! the DVDs are absolutely wonderful! we meet at my Aunt's and practice with Friends! The DVDs (Mainstream & Instant Hoedown) are EASY to follow and we have A BLAST ... Money Well Spent!"
Read more endorsements & testimonials for our products
Even if you have never square danced, you can hold a western themed party or square dance party using our Instant Hoedown DVD / CD set. Are you taking a square dance class? Use our mainstream video and plus video to review and supplement your square dancing lessons. Before you buy any other square dance instructional video, please view the sample chapters from our instructional DVDs and read our endorsements & testimonials. Square dance tapes do not offer instant access to the square dance calls you want to review. We know of no other product that lets you see live dancers with a downward angle for a clear view of what is going on, along with closeups as necessary to clearly demonstrate the square dance calls. Learn to square dance, have fun, and get exercise all at the same time! The Traveling Hoedowners square dance group has helped dancers in every state and in over 20 countries around the world.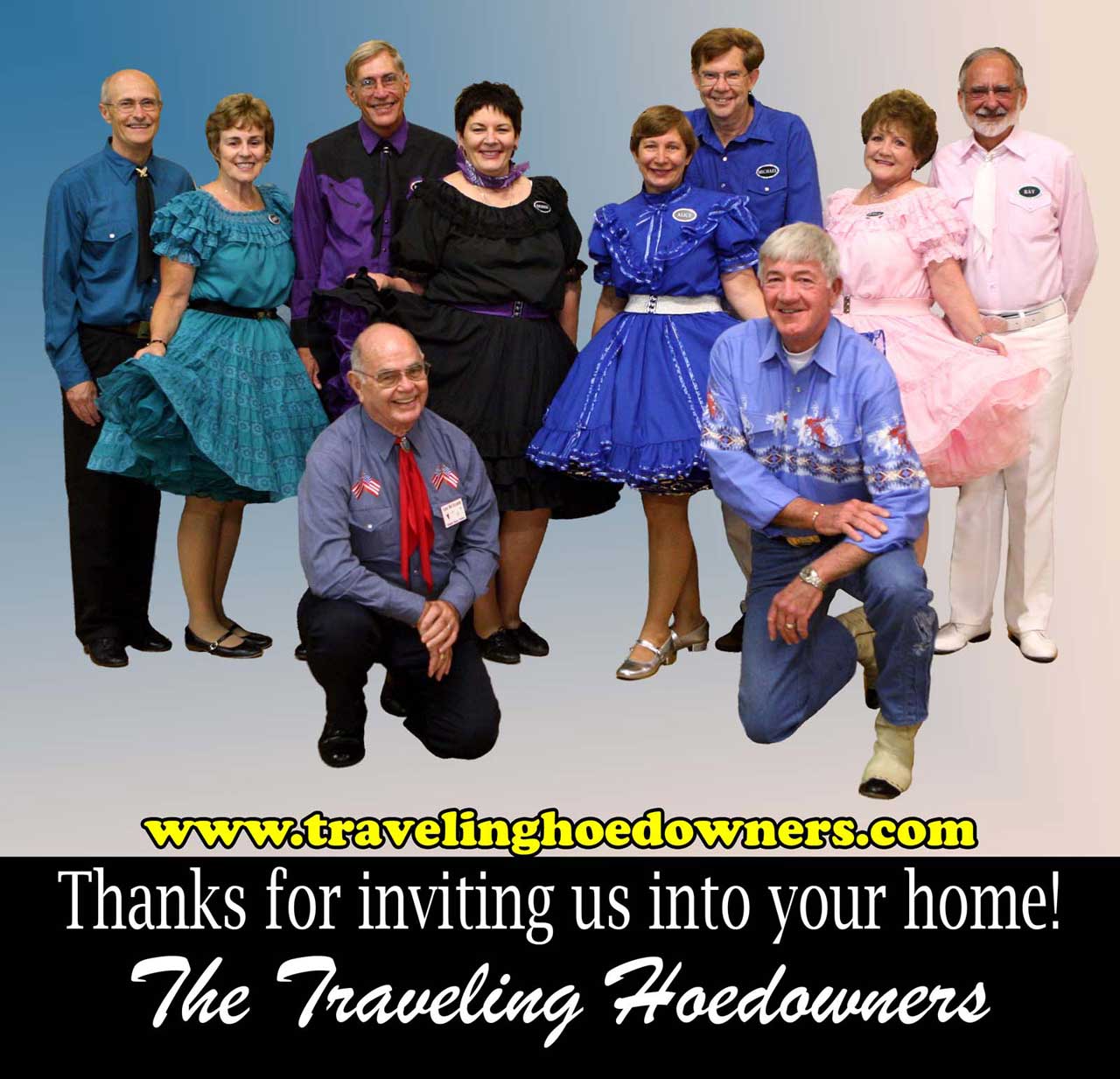 Popup blockers may
block the certification message;
right-click and open in a new window.




XHTML Validator will report 9 errors from code outside of our control
CSS Validator will report 18 errors from code outside of our control

© 2008-2017 The Traveling Hoedowners
Our counters started at zero on the date specified
Square Dancing | Square Dance Lessons | Square Dance Calls | Instruction | Videos | DVDs © 2008-2017 The Traveling Hoedowners