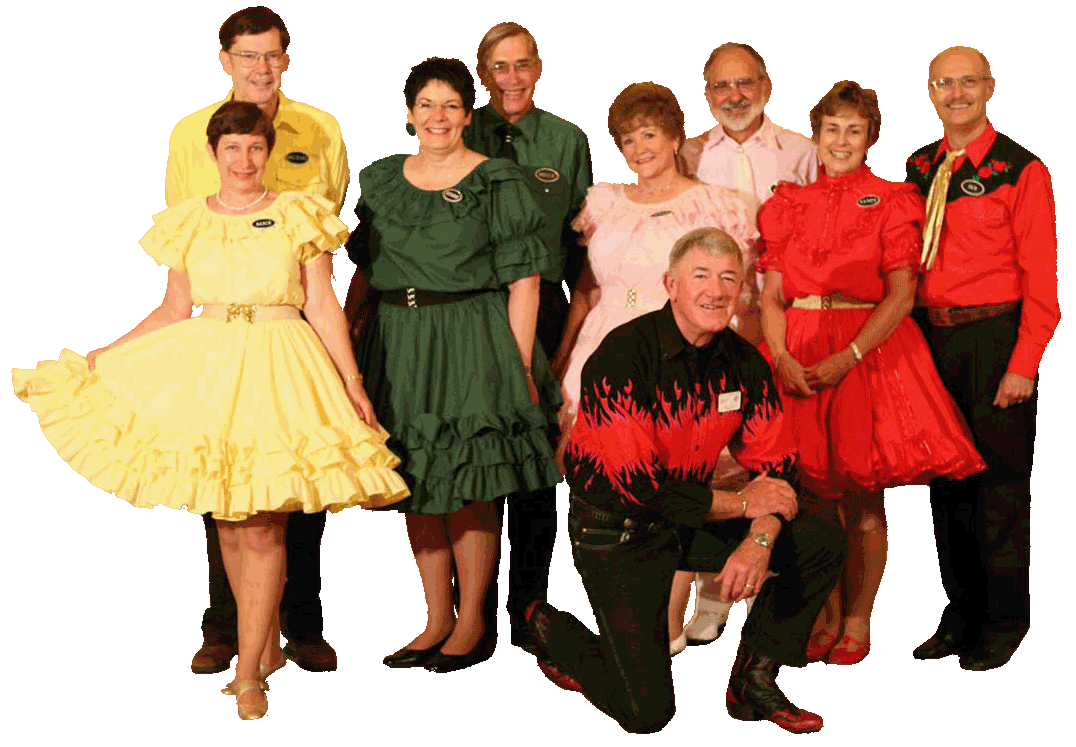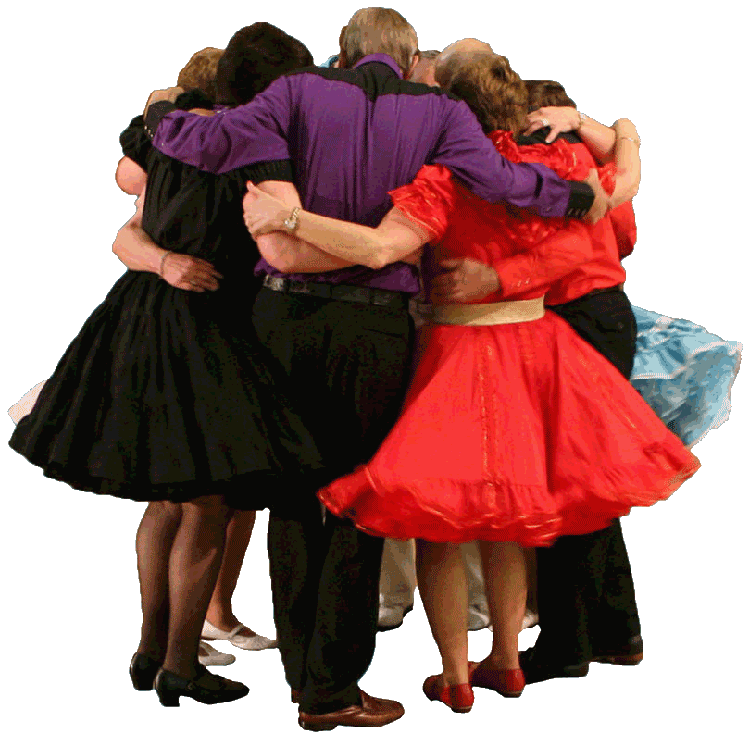 Square Dance Lessons and How to Square Dance Videos on DVD
---

Create and print square dance diplomas

A free square dance website - for your club or caller

Plus Reference DVD* - Learn all the Plus Square Dance Calls

Mainstream Reference DVD* - Learn all the Basic & Mainstream Square Dance Calls

Party Pack - Square Dance DVDs and CDs - Dance with us when no caller is available

Instant Hoedown DVDs - have a square dance party, easy square dance calls, no experience necessary!

Square dance music? Our Party Pack and Instant Hoedown include CDs of square dance music with calls

Square Dancing is alive and well - take a look at our world-wide sales!!
*Your caller is your instructor; our DVDs explain and demonstrate the square dance calls to help you learn.
Samples from our Mainstream DVD, Plus DVD, Square Dance Party DVD / CD set, and Instant Hoedown DVD / CD set; visit our video page for more videos.

Samples of Recent Feedback and Reviews

Linda from Virginia - December 2017
"After previewing a friend's Traveling Hoedowners DVDs, I purchased both your Mainstream and Plus DVDs. They are clear, concise and provide definitions as well as easy to follow demonstrations of the calls. They are an excellent way to study the calls, practice and correct mistakes I've caught myself making at dances. Thank you so much for putting together these DVDs. And thank you for your prompt delivery."
Julian from France - June 2017
"Your Reference DVDs were so useful when we were starting out and we still promote them when we have new dancers. We bought about 30 copies in the early days which are now spread across the three clubs here in the South of France. We have no "real" callers here so two of the local clubs use your Instant Hoedown for the beginners class each year before moving on to the full Basic & Mainstream program."
Jane from Montana - May 2017
"I have your Instant Hoedown and your Plus Square Dance Lessons DVD. I now want to order your Mainstream Lessons Reference DVD. Your square dance DVDs are very well done and very helpful. My 6 year old granddaughter really enjoys them and has since she was only 4 years old. When she wants to watch TV she asks to watch the square dancers instead of cartoons or Sesame Street!"
Dennis & Jo An from Tennessee - May 2017
"We would not have been able to learn to square dance without your DVDs. They allowed us to continue to learn even though we were traveling between Tennessee and Florida and missed some of our square dance lessons. Your DVDs gave us the edge on the other beginning dancers. We are wearing out both your Mainstream and Plus Square Dance Lessons Reference DVDs!"
Leland from Michigan - March 2017
"I love your Mainstream Reference DVD. I did square dancing as a young man and want to get back into it now that I am retired. My wife and I went to a square dance class but we were very disappointed and left the class early. We got way more out of your Square Dance Reference DVD. As a result, I ordered your Instant Hoedown DVD & CD set with the hope of starting a square dance group in Michigan when we return home in April by using it to guide us. We would also like to start a square dance group here in Florida next year when we return for the winter. I look forward to using your DVDs and CDs to help us get started and guide us in this endeavor. I just recall how much fun I had square dancing as a young man and want to do it again now that I have the time. So, thanks so much for your help!"
Swinging Squares, Panama City, Florida - February 2017
"My name is Larry Skipper and I am a member of the Swinging Squares of Panama City, Florida. Since learning about the Traveling Hoedowners DVDs, our club has purchased over 25 of them. The DVDs have been a great visual tool in helping our beginning square dancers to progress. They are able to review what they learned this week and take a look at what they will learn next week. Our members, who have been dancing for a couple of years, say that they learn something new every time they watch them. As for myself I have benefited a lot from both the Mainstream and Plus DVDs. The Swinging Squares thank you for support and look forward to purchasing more DVDs in the near future."
Paula from Louisiana - February 2017
"Our Party Saturday night went very well. Your [Instant Hoedown] video worked very well and everyone had a great time. It was perfect because there was only one or two out of 50 or 60 youth who had ever square danced before and being able to see the moves in addition to hearing the descriptions made up, in part, for not having experienced dancers to guide them through it. It also made it possible for me to teach them as I have zero experience teaching or calling square dance. Since we couldn't afford to hire a caller, your video pretty much made this activity possible. I'm sure we will use this video again and again. Our youth really enjoy structured dances so I really think this could become a favorite for them. Thank you so much!"
Pete from California - January 2017
"Your Mainstream and Plus Square Dance Videos are really helpful. They make learning the square dance calls so simple!"
Melva from Oklahoma - July 2016
"The Mainstream and Plus Reference DVDs that The Traveling Hoedowners produce are of excellent quality and beneficial in teaching square dance movements. We recommend that all our new dancers purchase them and watch them to review and study for the next lesson. We have enjoyed excellent service from the group and would give them the top ratings for this type material."
Bill, a square dance caller from Canada - May 2016
"I have borrowed your DVDs on mainstream and plus. These are great and I would like my own set. I will be teaching plus this fall and your DVDs explain very well."
Winfried & Nicole from France - April 2016
"The Instant Hoedown DVDs are well done, easily understandable, and would be the right solution for people who had heard about square dance, but have no idea how to manage. We have been square dancing for more than 40 years so I am happy with the Instant Hoedown CD, because after a short explanation of the calls to come, I can go directly to the dance in order to provide an immediate feeling of success for my friends who are new to square dancing."
Robert from Colorado - April 2016
"We have your Mainstream Reference DVD, and we love it. We are now ordering your Plus Reference DVD."
Read more endorsements & testimonials for our products
Even if you have never square danced, you can hold a western themed party or square dance party using our Instant Hoedown DVD / CD set. Are you taking a square dance class? Use our mainstream video and plus video to review and supplement your square dancing lessons. Before you buy any other square dance instructional video, please view the sample chapters from our instructional DVDs and read our endorsements & testimonials. Square dance tapes do not offer instant access to the square dance calls you want to review. We know of no other product that lets you see live dancers with a downward angle for a clear view of what is going on, along with closeups as necessary to clearly demonstrate the square dance calls. Learn to square dance, have fun, and get exercise all at the same time! The Traveling Hoedowners square dance group has helped dancers in every state and in over 20 countries around the world.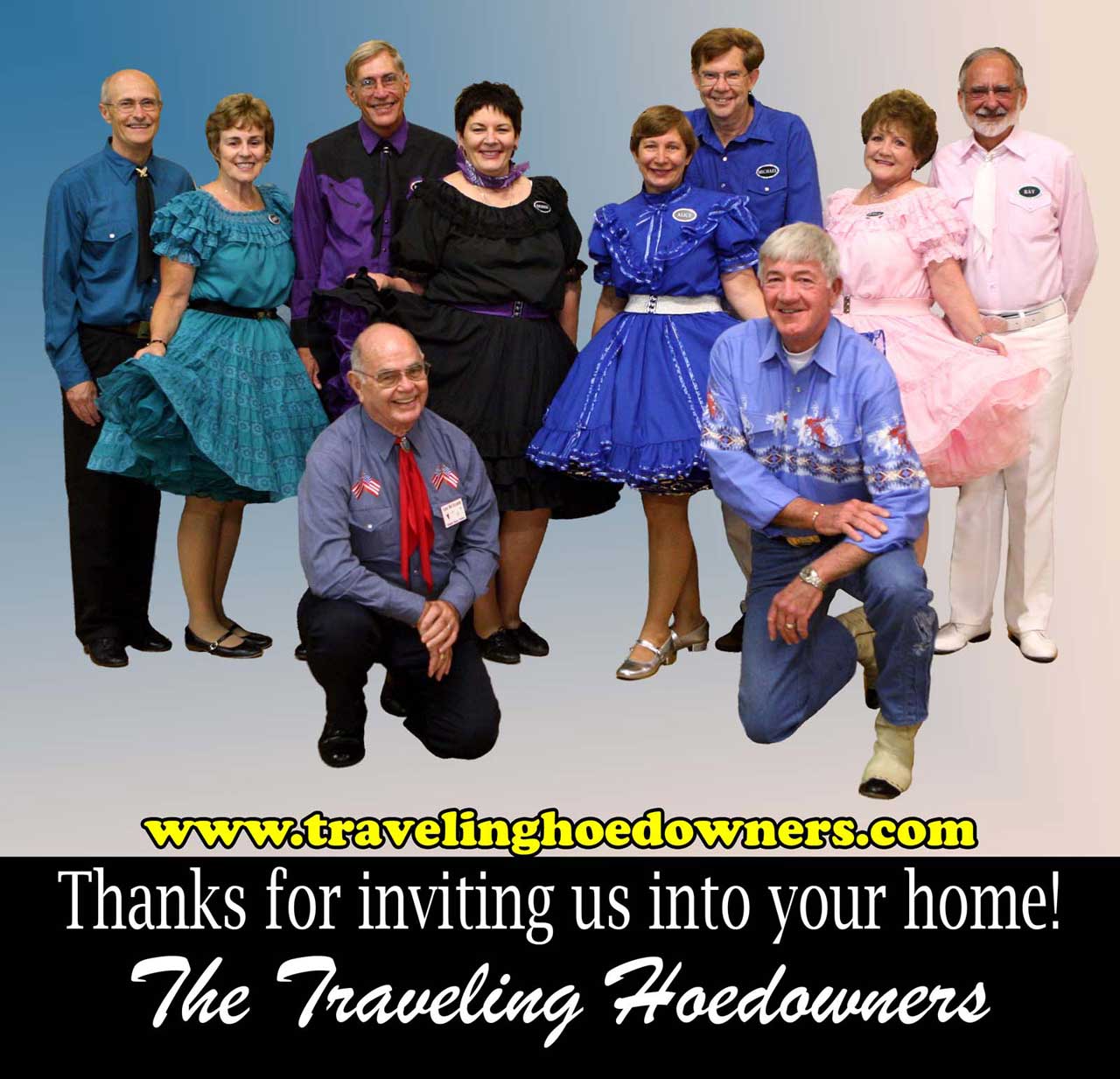 Our shopping cart is secured by GeoTrust
SSL CERTIFICATE


Popup blockers may
block the certification message;
right-click and open in a new window.




XHTML Validator will report 18 errors from code outside of our control
CSS Validator will report 60 errors from code outside of our control

Our counters started at zero on the date specified
Square Dancing | Square Dance Lessons | Square Dance Calls | Instruction | Videos | DVDs
© 2008-2018 The Traveling Hoedowners