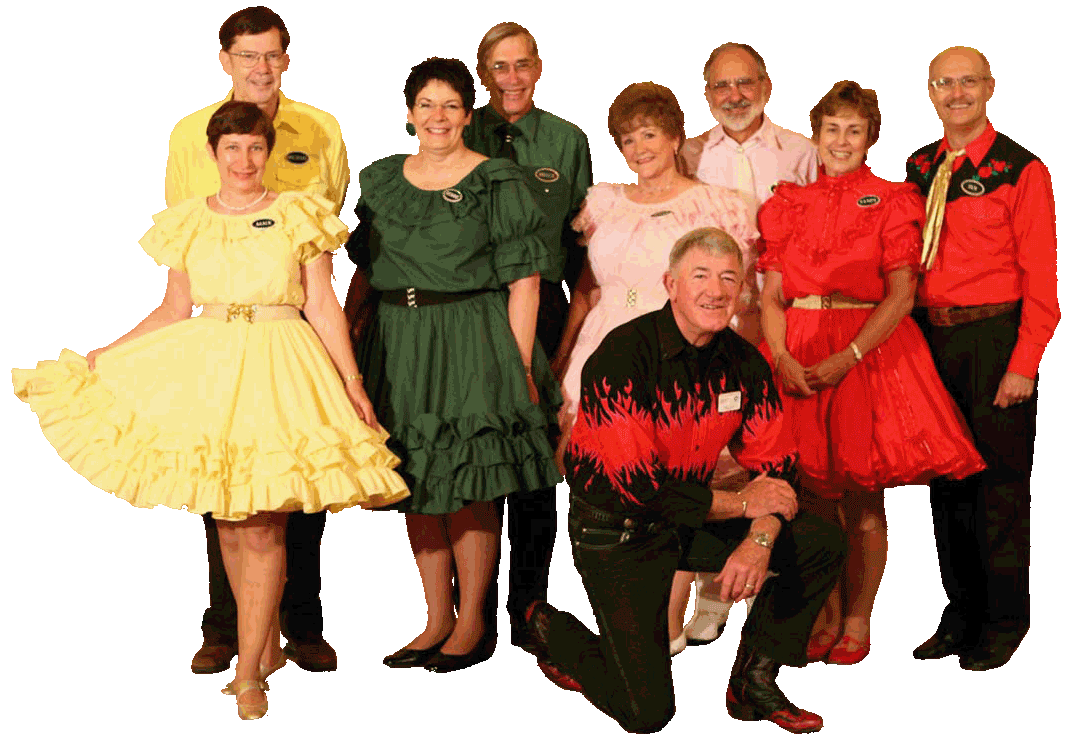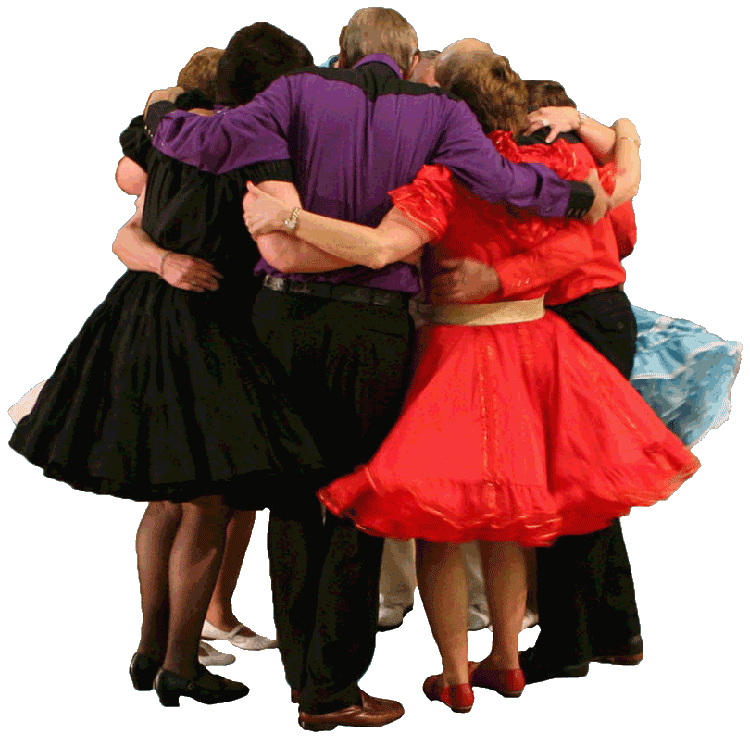 Square Dance Lessons and How to Square Dance Videos on DVD
---

Create and print square dance diplomas

A free square dance website - for your club or caller

Mainstream & Plus Reference DVDs* - learn to square dance

Square Dance DVDs and CDs - dance with us when no caller is available

Instant Hoedown DVDs - have a square dance party, easy square dance calls, no experience necessary!

Square dance music? Our Party Pack and Instant Hoedown include CDs of square dance music with calls

Square Dancing is alive and well - take a look at our world-wide sales!!
*Your caller is your instructor; our DVDs explain and demonstrate the square dance calls to help you learn.
Samples from our Mainstream DVD, Plus DVD, Square Dance Party DVD / CD set, and Instant Hoedown DVD / CD set; visit our video page for more videos.

If you have trouble playing a video here, try our YouTube page.
Sample Feedback & Reviews
David & Sarvani from Iowa - May 2013
"We have 3 of your DVDs and just love them and some of our friends have also ordered your DVDs. Your Mainstream Reference DVD certainly helped us a lot learning Mainstream. We now have your Plus Reference and your Square Dance Party Pack dances as well!"
Jennifer from Florida - May 2013
"It is indeed a treat to watch videos of 'The Traveling Hoedowners' as they strut their stuff in perfectly synchronized dance moves to the square dance caller's melodious voice. I have managed to carve out some time in my busy schedule to learn square dancing and it has added a new dimension to my life. I LOVE IT - the dance, the music, the costumes, the camaraderie all combine to guarantee a FUN PASTIME! A big thank you for keeping the spirit of square dancing alive!"
Bill & Becky from Florida - May 2013
"The Mainstream DVD is a 'must buy' for anyone wanting to learn Mainstream Square Dancing. We just completed Mainstream square dance lessons and, thanks to the DVD, we were able to review any calls we were weak on before the next lesson. It was great to be able to watch dancers perform the calls. We cannot imagine trying to complete the lessons without being able to go over and review what we learned in the previous lessons because there is so much to learn. Also, the way the DVD is set up, you can quickly and easily go to any particular call you need help with. This DVD really is an invaluable tool for anyone wanting to make learning easier."
Wayne & Sharon from Texas - March 2013
"We want to thank you for your 'Instant Hoedown' instructional DVD/CD, it worked well with 65 5th thru 8th graders. We were able to have them dancing to music the first week. We ended week 4 (1 hour session per week) with a dancing session of one hour. They loved it and the instructors did too."
Tom from Texas - March 2013
"We received the DVDs on Thursday and they are terrific. My wife and I began square dance lessons for the second time in September last year and are scheduled to graduate from plus in April. Your DVDs are a great review tool for us. Thanks for making such a wonderful contribution to our square dance learning experience."
Jack from Ontario - February 2013
"I am presently learning all of the "Plus" calls at a senior centre and I have found Square Dancing to be one of the activities that keeps my mind fresh and provides physical activity (as I love to dance for that reason). Your [Plus Reference] Square Dance video made it very easy for me to both learn and review my moves. Of particular note was: 1- The colour coded dress code made it very easy to trace a single dancer's steps. 2- The music was at full dance speed and not slowed down, which I liked. 3- Several moves were demonstrated from different start positions. 4- The styling of some of the dancing was really nice to watch. 5- My mind and listening skills are very active and so the square dancing activity provides both mental and physical stimulation which is unique at the retirement age that I am at. (Just turned 70) 6- I wish I had started square dancing years ago. 7- The demo dances were really nice to watch. Thanks Again."
Joe & Pat from Indiana - February 2013
"We have your Mainstream and Plus Reference DVDs - they are wonderful and really helped us! When we were learning to dance we watched them all the time. Now we still watch them to review calls when we have not been dancing for a while. We told our friends to buy your Mainstream and Plus DVDs, and we now want to purchase your Square Dance Party Pack so we can dance even when we do not have a caller."
Rodney & Jan from Florida - January 2013
"We have both your Mainstream and Plus Reference DVDs and we have been watching you every night. I really believe everyone who is learning to square dance should have your DVDs. You did an excellent job making them and they really help us to understand the calls."
Bill from Nevada - January 2013
"Wow, we will have fun now and learn so much thanks to you! Our retirement community group has separate practice sessions with your CDs. We encourage people to view your Reference DVDs prior to coming to our practice sessions. The ultimate would be to have a huge TV screen to play your DVDs while the dancers are watching, and then do the dance. We have no such luxury so cope with playing the CDs on a boom box after reading through your call lists. Thanks for the communications and good luck to you in your promotion of square dancing. We support you!" [Call sheets for our products can be downloaded from our detailed information page]
Laurie from California - October 2012
"The California 8th grade Physical Education content standards include instruction in square dance. As a California middle school physical education teacher, I have been using the Instant Hoedown, and Mainstream, DVD programs for over a year with great success. Basically, all of my students have never seen anyone square dancing before, so using the Traveling Hoedowners DVDs really helps my students see and understand how to square dance more quickly. I highly recommend the Traveling Hoedowners instructional DVDs whether you are teaching others to square dance or learning yourself."
Review by Video Librarian Magazine - January/February 2012
"Instant Hoedown! ***1/2 (2011) 2 discs. 137 min The clockwork precision of square dancing has never looked more entertaining than in Instant Hoedown! (a double-disc DVD set with an accompanying CD), which presents - over the course of 10 mini-lessons - both the vocabulary and essential choreography of the form. Featuring seasoned callers Scotty Sharrer and Roland Morin (who also serve as guides for home viewers) and the Traveling Hoedowners (four couples who demonstrate the various movements), this how-to looks at the basics - squaring sets, home positions, identifying corners, understanding what makes a head couple versus a side couple - before tackling fun stuff such as pass-throughs, star-throughs, twirling, and promenading. Highly recommended."
Read more endorsements & testimonials for our products
Even if you have never square danced, you can hold a western themed party or square dance party using our Instant Hoedown DVD / CD set. Are you taking a square dance class? Use our mainstream video and plus video to review and supplement your square dancing lessons. Before you buy any other square dance instructional video, please view the sample chapters from our instructional DVDs and read our endorsements & testimonials. Square dance tapes do not offer instant access to the square dance calls you want to review. We know of no other product that lets you see live dancers with a downward angle for a clear view of what is going on, along with closeups as necessary to clearly demonstrate the square dance calls. Learn to square dance, have fun, and get exercise all at the same time! The Traveling Hoedowners square dance group has helped dancers in every state and in over 20 countries around the world.
Popup blockers may
block the certification message;
right-click and open in a new window.



XHTML Validator will report 9 errors from code outside of our control
CSS Validator will report 18 errors from code outside of our control

© 2008-2013 The Traveling Hoedowners
Our counters started at zero on the date specified
Square Dancing | Square Dance Lessons | Square Dance Calls | Instruction | Videos | DVDs